---
Recent News and Tips
From the 3000 NewsWire: Whether HP's database labs want to take a bite is still uncertain. A meeting of IMAGE/SQL experts and enthusiasts turned into an impartial jury at HP World, when the SIG-IMAGE/SQL group voted to approve the long-dormant Enchilada database upgrade proposal. The Enchilada — a nickname for the ENhancement for caCHIng Limited Authorized DAta — was first dreamed up late in 1998 as a way to provide a host of improved database services to HP 3000 customers.

9/28/2001

We have converted the Qedit/iX manual to PDF format for printing and HTML Help format for browsing. Both are available on our web site for download:

Qedit for MPE manual (PDF), (HTML Help)

Qedit for MPE Change Notice (PDF), (HTML Help)

9/27/2001
John Burke has a web page with the best of his columns from The 3000 NewsWire. Very useful.

9/26/2001

Edit your Suprtool jobs and test them, all from a friendly Windows environment. Read this article about Qedit for Windows in the public area of the 3000 NewsWire.

9/25/2001
September 24-26 (Monday through Wednesday) will be the HP Dutch World conference. Organizers expect over 2,000 visitors, which is a lot for the Netherlands. Robelle's distributor, Samco, wil have a booth there, with an HP e3000 A400, a demo financial application and, of course, all of Robelle's products.

9/23/2001

Selecting text is a basic technique in all Windows applications, including Qedit for Windows. Everything starts with the "basic swipe". But Qedit offers much more than that, including easy ways to extend selections, rectangular selections, and even select to a saved position. For a comprehensive review of all the selection techniques, click the link above.

9/21/2001
Curtis Larsen has written an excellent introduction to Lightweight Directory Access Protocol (LDAP). Curtis explains that LDAP allows you to create directories of information similar to what you would see in a telephone book. Any information you want to store for later quick retrieval: names, telephone numbers, conference room capacities, addresses, directions — even picture or sound files. Using directories such as these is an incredible time-saver (can't you think of company applications for one already?), but LDAP can do so much more. The directories you create are wholly up to you, so the sky's the limit.

This is a timely article, since LDAP is now available on the 3000.

9/20/2001
Robelle has made it even easier to access our What's Up DOCumentation newletter! We have upgraded our newsletter to be available exclusively on the web at www.robelle.com/library/newsletter/. You can get it in HTML format for browsing and PDF format for printing. Starting now, and in the future, the What's Up DOCumentation newsletter will take advantage of the internet to provide better information, more often and more quickly.

Starting with this special double issue, we are also going to publish more frequently.

The September 2001 issue contains these highlights and more:

* HP World 2001 photo's and news, including "Bob Green's Top Ten Software Tips from the Dark Side", and notes from the sessions with Winston Prather and David Snow.
* Importing HPe3000 Data into mySQL
* Edit Report Layouts By Row and Column with Qedit for Windows
* Sync-up Your Master Totals with Suprtool's Update-From-Table

The August 2001 issue contains these highlights and more:

* An Introduction to IMAGE Internals
* What's New in Qedit and Qedit for Windows
* Converting from Image to HTML
* Accessing a File's Pathname in Qedit for Windows
* Working with Single-Byte Integers in Suprtool

Browse the HTML issues:

Download the PDF issues

September 2001, issue #5, PDF format

August 2001, issue #4, PDF format

9/19/2001

By Dave Lo
After you have created a PRN file from Suprtool with the Output,PRN command or the STExport module, you may discover that your other application wants to have a header record. The STExport module of Suprtool has the ability to define a header, but the Output,PRN command does not.
If you no longer have the original data for recreating the PRN file with STExport, you can add a header record another way:
1. pre-build a file big enough for the output

  setvar recsize finfo("yourfile","recsize")
  setvar eof     finfo("yourfile","eof")+1
  build newfile;rec=!recsize,,f,ascii;disc=!eof

2. write the header

  file newfile=newfile,old
  echo "your header","etc." > *newfile
  reset newfile

3. copy in the rest (you can even use Fcopy if you don't have Suprtool)
 
  suprtool
  >in yourfile
  >out newfile,append
  >exit

9/18/2001
The NewsWire highlights Chris Bartram and his work on improving security for Ecometry sites.

9/17/2001
MPE/iX Release 7.0, Express 1 is ready. This is the release that enables multiprocessing on the A-class and N-class systems, as well as a number of other technologies. Join HP for this 1-hour webcast seminar, hosted by HP's own George Stachnik. To register for this program, go to www.hp.com/go/e3000 and click on the Webcast link. Date: Tuesday, September 18, 2001 Time: 8:30 - 9:30 AM Pacific

9/14/2001
We have been taking a vote of our customers about what format and media they prefer best for program documentation. And the winner is PDF format, downloaded from the web. Here are the rankings:

37% - web download, PDF format
6% - web download, MS Word format
23% - web download, HTML format
5% - web download, Winhelp format
16% - on cd-rom, PDF format
3% - on cd-rom, MS Word format
3% - on cd-rom, HTML format
2% - on cd-rom, Winhelp format.

We already offer web downloadable documentation in PDF and HTML format for Suprtool and Qedit for Windows, with Host-based Qedit in Winhelp format (PDF and HTML available shortly).

9/13/2001
The NewWire has published a short extract from Bob Green's paper on software quality that he presented at HPWorld last month. Read the entire paper.

9/12/2001
Here is a posting from 3000-L about QSS, a software application vendor in the education market, and their experience dealing with HP and other vendors as they worked on procurring a new A400 to replace their 937 circa 1992 system.

9/11/2001
This is the site for the consulting business of John Burke (info@burke-consulting.com), a well respected MPE expert.

9/10/2001
Check the link above... The image is a panoramic view of the world from the new space station. You can scroll East-West and North-South (left and right and up and down). It's easy to spot London, Paris, Stockholm and Vienna. Note the Nile River. Look at the Australian Outback and the Trans-Siberian Rail Route. Moving east, the most striking thing is the difference between North and South Korea.

9/08/2001
Robelle is collecting information on qualified HP e3000 consultants and posting it on our web site. Ron Horner is a real 3000 enthusiast, and a Suprtool booster. Check his web site to see how he has integrated the Robelle news headlines into the design.
Company Name:
Horner Consulting
Speciality:
HP3000 Consulting and Solutions
Description:
Horner Consulting specializes in systems solutions and tools for the HP3000.
Contact:
Ron Horner
Email:
horner.horner@mindspring.com
Location:
Kenosha Wisconsin
Phone:
262.942.6128
Web site:
horner.horner.home.mindspring.com
Links:
Free scripts/code for the 3000
Suprtool
Experience:
Extensive experience with Suprtool.
References:
References are avaliable on request.
Notes:
Getting EXTREME with your MPE.
9/07/2001
At the HPWorld conference, Orbit was giving away copies of their new pocket guide, updated for MPE/iX 7.0.

9/06/2001
InnerVu is a professonal hardware service organization. planning to provide USA-wide support for MPE systems, including the recently obsoleted 9x7 systems, with "feet on the street" in all markets. If you are interested, contact Bruce Mitchell, brucem@innervu.com

9/05/2001
All of the major news sources are reporting a proposed merger between HP and Compaq today. According to the San Jose Mercury News:

The combined technology company would have annual revenues of about $87.4 billion and 145,000 employees, trailing only IBM in size. And if completed, the merger would help the two struggling companies compete against nimbler rivals like Sun Microsystems and Dell Computer.

9/04/2001

---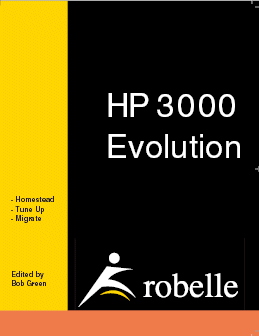 HP 3000 Book
HP 3000 Evolution:

Edited by Bob Green of Robelle, from articles written by Robelle, by The 3000 Newswire, and by other experts in the HP 3000 field.

This 300-page book contains the latest information on three important topics:
Homesteading
HP 3000 Tune Up
Migrating a 3000 application.

An essential reference for every desk! Order your copy on-line for US$25.