---
Recent News and Tips
Qedit for Windows 5.4.11 Pre-release
Includes improvements to rectangular selections.
12/30/2003

Merry Christmas

12/24/2003
Davida in Chicago has 19 years experience programming and systems design for HP 3000, with knowledge of COBOL, IMAGE, Powerhouse, MPEX, AMISYS, and of course, our products. He writes: "Suprtool is a great tool for data extraction and Qedit is a great full screen editor for COBOL code and jobstreams."
12/23/2003
Jan 14: George Stachnik Webinar
HP's is hosting another web seminar on the transition an HP e3000 to the Microsoft Platform on Wednesday, January 14 from 8:30 a.m. - 10 a.m. PST. Features ASAP Software, who are transitioning their HP e3000 platform to Microsoft .
12/22/2003
Qedit Version 5.4.11 Pre-release
An improved version of host-based Qedit (and server Qedit) is available for download on our web page. Major improvements include preservation of trailing spaces and Set Varsub On to do variable substitution.
12/20/2003
Daniel lives in Northern California and has over 20 years experience with Suprtool, Qedit, Cognos and COBOL.
12/17/2003
Read about the new variable substitution feature in the latest Qedit pre-release (version 5.4.11), as well as improvements to the handling of trailing spaces on lines.
12/16/2003
The NY Times echoes insights by Edward Tufte that PowerPoint 'forces people to mutilate data beyond comprehension.' The board investigating the Columbia accident complained that NASA slides about the shuttle wing damage were so confusing that 'a senior manager might read this PowerPoint slide and not realize that it addresses a life-threatening situation.'" Counter-arguments.
12/14/2003
Qedit: All About Line Numbers!
A new application note on handling source files with "line numbers" (i.e., columns reserved for a collating sequence number): different kinds of linenumbers, invalid line numbers, how to fix line numbers, and much more.
12/12/2003
Consultant: The SoftWorks, Inc.
Rafael Andrade is a consultant with extensive experience with the HP 3000, Suprtool, Qedit, Powerhouse, MPEX and AMISYS. Of AMISYS, he writes "AMISYS requires vast knowledge of these the most popular tools on the HP3000:
SUPRTOOL - almost every job needs an extract upfront from the DB.
QUICK - These are the most complex screens ever and I have created complex QUICK screens for the last 20 years.
QTP - Not many Powerhouse programmers really know this fantastic (but slow compared to SUPRTOOL) batch update tool.
QUIZ - Reports and subfiles galore
ORACLE - The new AMISYS is Unix based and uses Oracle and Java as well as Powerhouse for Unix."
12/10/2003
John Burke has posted his Newswire column with useful information about updating your server firmware without an HP technician, performance issues in serial scans, how to delete 70,000 files (answer: in reverse alphabetical order), and much more.
12/09/2003
Customer Feedback on Our Newsletter
Dennis Barnes, Directory of IT at Wharton County Junior College writes:
Keep up the good work. I wish some of our other vendors kept us informed this well.
12/08/2003
$Edit, $Split and a Whole Lot More
Suprtool 4.7.10 has now been released and is available as a pre-release. This pre-release is chock full of bug fixes and enhancements that are sure to help homesteaders and migrators alike.
First off, Suprtool now has an edit-mask feature, which allows output fields to be formatted using COBOL-like edit-masks. Another key feature is that the Suprtool $split function can now be used up to 255 times in a single task. This means that you can now manually parse out fields from a typical Import file, such as PRN format. You can request a copy by filling out the form on our web site.
12/04/2003
Here is an excellent article by Ron Seybold of The 3000 Newswire about Cognos' plans for Powerhouse improvements and migration.
12/03/2003
Next Newsletter in January, 2004
There were not enough new news in November to justify a formal newsletter, but we posted every news item to our home page as we discovered it. Therefore, you can review the posted news items online at any time by clicking the link above and then selecting a recent calendar month. This is like a sneak peak at the newsletter! Also, we have completed our customer survey about our newsletter and customers prefer the emailed announcement with a web link, so we will be continuing that in January.
12/02/2003
John Burke has posted his "Hidden Value" column from the November issue of The 3000 Newswire. This column is packed with useful info on running a 3000 datacenter! Essential reading.
12/01/2003

---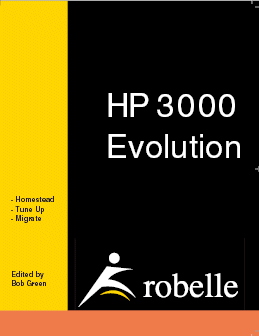 HP 3000 Book
HP 3000 Evolution:

Edited by Bob Green of Robelle, from articles written by Robelle, by The 3000 Newswire, and by other experts in the HP 3000 field.

This 300-page book contains the latest information on three important topics:
Homesteading
HP 3000 Tune Up
Migrating a 3000 application.

An essential reference for every desk! Order your copy on-line for US$25.