---
Recent News and Tips
City and County Credit Union describes their successful migration from MPE to HP-UX. The Summit application uses the Eloquence database and our Suprtool/Qedit products on HP-UX.
1/30/2004
Getting Rid of the Cool Web Search Hijack
You go to Google and type in a search, but you end up at some other web site. You have been invected by a variant of the CoolWebSearch (CWS) hijack, which exploits the ByteVerify vulnerability in the MS Java VM. The invection comes from browsing the web, not from email or downloads, and some of our PCs have been invected despite having Norton and/or McAfee anti-virus installed. It is quite difficult to remove CWS - almost impossible in the latest variants. Click the link above for the CWShreader program to remove CWS and, optionally, protect you from re-infection. More details.
1/26/2004
Trivia Questions About the 3000
We added questions from Eugene Volokh to our trivia quiz.
1/23/2004
Quote from Robelle customer Craig Erwin of Tempe City Government.
1/22/2004
Customer Comments on Our Newsletter
Neda Bahrani of Superior Dental Care, Inc. writes:
"If it were not for What's Up Doc, I would never get to learn new things!"
1/19/2004
John Burke has posted his December column from The 3000 Newswire, including tips on Samba and a good discussion of spare peripherals (why the A and N class are better than the older systems).
1/16/2004
"The concept of homesteading comes from the 19th century United States law and practice of people moving west to settle the open public lands available. These rugged settlers had to endure many hardships to have a 160-acre plot of their own to cultivate and raise a family. Often they were far from their nearest neighbors and had to fend for themselves. My mother's family used the land runs in Oklahoma territory to acquire land for their settlement. We still have several pieces of family furniture in our house that were in their wagons used for the Run."
"This concept applies to the HP 3000 site that will continue to provide self-support for the platform long after the support from HP is gone. Since their announcement, HP has not shown to be proactive in providing the kind of support you have been used to in the past. But you don't have to be left out in the wilderness on your own if you apply the information in this article. "
1/14/2004
Suprtool is a high-speed data extraction tool which at times depending on your type of system, version of OS, and even the amount of memory you have, will consume too many resources. Read Neil Armstrong's suggestions for tuning Suprtool to be more resource friendly. A must read for any customer who has a system with greater than 2Gb's of memory.
1/11/2004
Newsletter Published for January 2004
Robelle is proud to publish the first newsletter of 2004. Some of the topics covered (or linked) in this issue include:
- History of the HP 3000 Spectrum
- The Future of Powerhouse
- New versions of Qedit and Qedit for Windows
- Variable substitution enhancement for Qedit
- All about Line Numbers in Qedit
- Easier Oracle migration for Suprtool
- $Edit, $Split, and many more Suprtool improvements
- New consultant resources

1/07/2004
December issue of "Hidden Value"
John Burke's web site has the Dec issue of this column from The 3000 Newswire,with Q&A on tape drives, home up without CR/LF, file create, modify, etc. times down to the second, FINFO on temp file only, KSAM/XL space reuse, restricting VT-MGR connections, multiple LANICs on the same network, patch "versions", and more. A good read.
1/06/2004
In the Northwest: Multi Platforms Consulting, Inc.
Providing contract technical consulting expertise to major companies in the Pacific Northwest since 1992. HP 3000/9000: Data Extraction, Conversion, and System Migration. Suprtool, SQL, Image, Image SQL, MPE, Quiz, Qedit, Cobol. ERP and CRM experience.
1/02/2004

---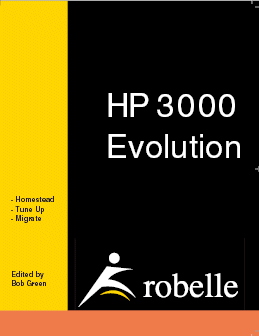 HP 3000 Book
HP 3000 Evolution:

Edited by Bob Green of Robelle, from articles written by Robelle, by The 3000 Newswire, and by other experts in the HP 3000 field.

This 300-page book contains the latest information on three important topics:
Homesteading
HP 3000 Tune Up
Migrating a 3000 application.

An essential reference for every desk! Order your copy on-line for US$25.