---
Recent News and Tips
Read Tyler Cowen's post about Google's competitors and then try these two new search engines: Teoma and Mooter.
2/28/2004
Recently I was asked why Suprtool for HP-UX doesn't work or even exist, when our web site had references to the product all over. I was incredulous, but apparently someone had been saying that Suprtool for HP-UX did not exist!!!!
Well nothing could be further from the truth, and what is even more important we have some great new enhancements and options available! However, one of the biggest questions in the last three weeks is what are the differences between MPE and HP-UX. It is evident that many customers recognize the investment that they have in their Suprtool code and want to know the types of changes they need to make to their code in order for it to work on HP-UX if they move from MPE.
2/27/2004
The Feb 2004 issue of The 3000 Newswire contains a good interview with Frank Smith of Alden Research, who offers certified MPE/iX training. Frank even developed MPE training classes for HP. Contact him via email at falden@aol.com or tel: 410.750.2101. Many other MPE consultants also offer MPE training, so it should not be a problem to get training for new staff for quite some time.
2/25/2004
Speedware Supports Eloquence
Jean-Marc Jalbert of Speedware writes:
"We officially support Eloquence on Windows and UNIXs. It is supported in the AMXW product, a recent Speedware acquisition. You can do a search on the Speedware Web site to get more info: www.speedware.com - Eloquence is also supported in our 4GL and CASE Tools : Speedware V7. We also support Omnidex for Eloquence on Windows and UNIXs."
2/24/2004
Steve Cooper writes: As I reflect back on Allegro's 20 years and my own 26 years in the HP 3000 business, I cannot help but marvel at how lucky we are to be a part of this community. It has been an honor and a pleasure to work in such an exciting, dynamic, and supportive environment...
Click the link above and read what others have to say.
2/20/2004
Gordon Gavin of Cygnus Business Media writes:
It's always such a pleasure to read "What's Up Doc!" ... there is always at least one snippet to glean from the contents. Keep up the good work.
2/19/2004
Dbedit for Eloquence, and more...
Suprtool pre-release version 4.7.11 has some excellent improvements:
2/16/2004
Beechglen Technical Articles on the 3000
Here is a very useful archive of technical tips that you should bookmark for future reference. Dozens of topics, including Traceroute from MPE, Speeding Up Backups, using CI variables with FTP, and much more.
2/12/2004
Merge is a Qedit command that matches lines in the current workfile with lines from a "merge" file, based on the line number. Qedit pre-release 5.4.12 contains a new option, MergeJ, which appends the corresponding line from the merged file, rather than replacing.
2/11/2004
John Burke has posted the January 2004 version of his "Hidden Value" column from The 3000 Newswire. Topics included: frozen program, login IP address, networking error messages, limits on the CI buffer, and much more.
2/10/2004
The Summit users meeting will be held May 17-20 at La Costa resort near San Diego, with a golf tournament on May 16. Bob and Mary Ann Green from Robelle plan to attend.
2/06/2004
John Burke has posted the January column from The 3000 Newswire. Topics include automating ftp logons, CI functions SIB request update and Nike Arrays.
2/02/2004

---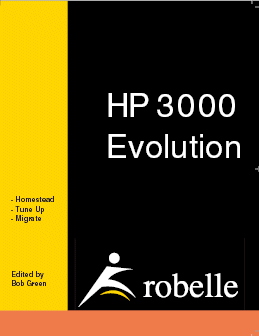 HP 3000 Book
HP 3000 Evolution:

Edited by Bob Green of Robelle, from articles written by Robelle, by The 3000 Newswire, and by other experts in the HP 3000 field.

This 300-page book contains the latest information on three important topics:
Homesteading
HP 3000 Tune Up
Migrating a 3000 application.

An essential reference for every desk! Order your copy on-line for US$25.