---
Recent News and Tips
Free Quick Reference Guides!
Free Qedit 5.4 & Suprtool 4.7.02 Quick Reference Guides while supplies last.
Manual sale: limited quantity, while supplies last.
$10 per manual + $10 shipping fee:
4.7.02 - Suprtool MPE or HP-UX
5.4 - Qedit MPE or HP-UX
5.4 - Qedit MPE & HP-UX
Orders should be sent to

4/30/2004
The first in a series of interviews with frontline people about the state of the 3000 world. This time it is Taylor Lumpkin of Hire Experience, an Ecometry expert out of Delray Beach Florida who provides reports, extracts, interfaces, bug fixes, modifications, tech support, system review, EDI, XML, and whatever else his Ecometry customers require. Clients of his firm include Brookstone, Childcraft, Lego, Hickory Farms, and Tiger Direct.
4/29/2004
The Summit users meeting will be held May 17-20 at La Costa resort near San Diego, with a golf tournament on May 16. Bob and Mary Ann Green from Robelle will attend. Bob Green will be presenting a training session on Suprtool and Qedit during the conference:
Title: Special Suprtool/Qedit Features for Summit Users
Description: Those migrating to HP-UX will receive all Robelle tools, including MPE versions. Learn some powerful data manipulation features for working with Summit application data.
4/28/2004
I have been noticing TinyURLs for the last few months. For example:
Here is an email message about safer C coding:
"... One of these changes are some routines to handle strings more securely (strsafe). The whole article is at:
http://msdn.microsoft.com/security/default.aspx?pull=/library/en-us/dncode/h tml/secure03102004.asp
Or,
http://tinyurl.com/36925"
Notice how short and easy to cut and paste the tinyURL is! I also noticed TinyURLs in my email news from Ron at The 3000 Newswire.
Are you sick of posting URLs in emails only to have them break when sent, causing the recipient to have to cut and paste them back together? Then TinyURL.com is the right place for you. They will create a tiny unique URL for any long URL, and it will not break in email postings and never expires. A cool free service.
4/27/2004
Horner Consulting ("Get Extreme with MPE") has a new web address, www.hornerconsulting.com, with a page of excellent free scripts and code for the 3000.
4/26/2004
New ORBit Product: Rosetta Store
"Rosetta Store is a new utility that lets you restore data from MPE backup tapes onto non-MPE systems such as HP-UX. Besides just extracting the raw data from tape, Rosetta Store knows the internal format of things like TurboImage databases so it can actually provide the information in a format thatís immediately useful. It knows how to convert TurboImage databases into Eloquence databases, XML, and other formats. Not just databases but all kinds of MPE files can be restored using Rosetta Store."
4/23/2004
HP To Reconsider Converting 9000s to 3000s
Here is the quote from Ross McDonald, MPE/iX R&D Director of Engineering: " We are reviewing the complex situation regarding HP 9000 to HP e3000 conversions. As recently as HP World 2003, we said that we would not pursue this. However, after listening to the input provided by the OpenMPE Board, we have reopened the subject. So far, we have had limited internal discussions on this topic. We intend to provide an update in June 2004."
Ron Seybold of the 3000 Newswire brought this announcement to our attention. The Newswire also points out that this doesn't mean that HP are going to run MPE on HP-UX - they are talking about allowing MPE itself to run on 9000 PA-RISC hardware, which has the same instruction set and I/O architecture as the 3000 hardware.
And it doesn't mean they have promised anything yet. However, such conversions would give existing 3000 users new alternatives for server upgrades. But there would still exist the issue of who would verify that MPE actually works on the 9000 hardware (probably not HP!).
4/22/2004
From the Univ of Iowa: Working with Directories, Working with Files, Finding and Organizing, System Operations, and Network Operations.
4/21/2004
The HP corporate web site has the HP-UX "manpages" online.
4/16/2004
Here is what they say on their web site: "Since 1978, Datagate Inc. has been the largest alternative support company for Hewlett Packard computer and instrumentation systems. Our excellent company reputation has been established by providing THE highest quality maintenance support in the industry... Nationwide support, with Customer Engineers (CEīs) averaging over 10 years of experience. DATAGATE has never considered any HP product obsolete. We service all HP equipment regardless of age."
Web site found via John Dunlop's HP 3000 Links Page, where he also mentions that "they will support HP3000's for at least 10 more years."
4/15/2004
Answers to Frequently Asked Questions about HP-UX, the operating system of the HP 9000 line of servers.
4/14/2004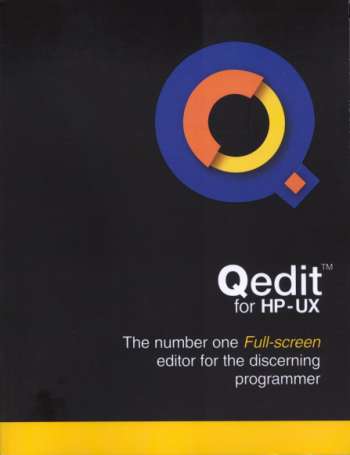 Printed Manuals for Robelle Products
Now you can have your own personal manual to hold, mark up and dog ear.
A new service from Robelle: you can order on-line the latest manuals for Qedit and Suprtool (for MPE/iX and for HP-UX).
These professionally bound manuals will be printed immediately upon your request and billed to your credit card (via a service called OnDemandManuals.com). The Qedit manuals are $25 US and the Suprtool manuals are $30 US.
P.S. You can of course also download manuals in digital form without charge (either PDF for printing or HTML-Help for interactive use). These files are available on our Library Download Page.
4/12/2004
Happy Easter
Best wishes for this holiday weekend from Robelle.
4/09/2004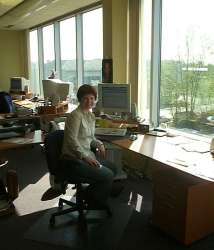 We are moved into our new offices in the Newton area of Surrey, BC. We are all unpacked and organized, although we still have to wait a few more days for a DSL service that will route more than one IP address!
Click the link above for many more pictures of the office, and the move.
4/08/2004
HP would like to invite you to a webcast hosted by George Stachnik on the Value and Benefits of Transitioning your HP e3000 to the Microsoft Platform on Webnesday, April 7th from 8:30 a.m. - 10 a.m. PST. You'll hear from ASAP Software, an e3000 company that is transitioning their HP e3000 software to the Microsoft .NET. To register, click the web link above.
4/07/2004
Consultants: Global Software Consulting
Here is a firm in India that does HP 3000 migrations and application support. This is the first time we have heard of them, but they be very qualified.
4/06/2004
An excellent collection of technical tips for running an HP-UX site, by Beechglen, with topics such as: Proper Patch Installation Verification, Copying Data Utilizing CPIO, Creating a Bootable Recovery Tape, Managing Mirrors, Mirroring the Root File System and Primary Swap, and many more.
4/02/2004
Kubler Announces Spring Suprtool Training
Kubler Consulting, Inc., an authorized Suprtool Training partner with Robelle Solutions Technologies Inc., is offering a three-day SUPRTOOL Training course in Tampa, Florida. Based on demand for training on the east coast, this course is being hosted in Tampla Florida by the Suncoast Credit Union. The dates are April 28th - 30th. If you have an interest in the training please send email to jeff@kublerconsulting.com or call 541-745-7457. Come early and also take "HP-UX Administration for MPE/iX Users Training" on April 26th and 27th. Further information including the topics covered, detailed location and training references, etc. are available upon request.
4/01/2004

---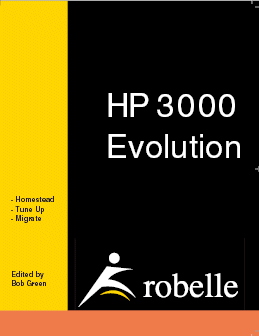 HP 3000 Book
HP 3000 Evolution:

Edited by Bob Green of Robelle, from articles written by Robelle, by The 3000 Newswire, and by other experts in the HP 3000 field.

This 300-page book contains the latest information on three important topics:
Homesteading
HP 3000 Tune Up
Migrating a 3000 application.

An essential reference for every desk! Order your copy on-line for US$25.