---
Recent News and Tips
Jeff Vance at Virtual CSY in Cupertino (jeff.vance at hp dot com) has released HP's response to the "tactical" requests in the recent SIB. "At this time we intend to fully or partially implement seven out of the top 15 requested [tactical] items, including the top two items: network printing and ftp security enhancements. We are saying no to seven of top 15 items; however, two of the seven have usable scripting work-arounds. We don't yet have an answer for one item (SCSI pass-thru) which is currently being investigated." Click the link above to read HP's full reply.
5/28/2004
Feedback from Frontline People ... Chris Bartram
This month we interview Chris Bartram of 3K Associates, creators of NetMail for the HP 3000 and other Internet products. Chris operates the www.3k.com web site, which contains lots of useful information for HP3000 users. Chris has been a 3000 booster for years. Click the link above to see what Chris had to say when I caught up with him.
5/24/2004
Victoria Day!
Reminder: Monday May 24th, the Surrey, BC office will be closed for Victoria Day. The sales and admin office will be closed, but support will still be open.
5/20/2004
Software Porting and Archive Center for HP-UX
Here is a very useful web site for HP-UX, containing Open Source packages which have been configured and ported to HP-UX.
5/20/2004
1700 Disk I/Os Per Second
Here is some HP 3000 news picked up at a talk by Alvina Nishimoto of HP (at the Summit Client Conference). One of HP's 3000 customers, an airline reservation system running on a top-of-the-line N-class (4-way, 750 mz) with XP fiber-channel disk arrays, is sustaining 1700 disk I/Os per second! The system is running 90% cpu utilization and has no bottlenecks. They even hit 2000 I/Os per second at some peak moments. We thought 400 per second was incredible a couple of years ago!
5/18/2004
Another Amazing Year for Suprtool!
As you surely recall, last spring we released version 4.7 of Suprtool with expanded Eloquence support, $Number, $Counter, $Total, $SubTotal, $Split, high-speed many-to-many links, and more. If you thought that was terrific, wait until you see this spring's release. Suprtool version 4.8 has even more improvements and will be sent to each Suprtool customer at the time they renew their support for the year. Click the link above for all the new features.
5/11/2004
Search the hpux-admin mailing list
Search by date and text. When you click on a posting to read it, the text opens in another window.
5/07/2004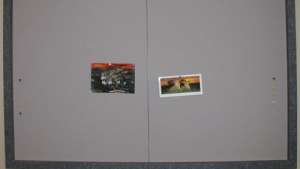 Help Robelle Decorate Our New Office
We have a large bulletin board in the server room, but it is empty! So we posted a postcard from South Africa (thanks Nicky) on the bulletin board. We had a cool idea to fill up the board with postcards from our travels and from friends of Robelle. Fran is mailing a postcard from Las Vegas & Washington DC. Bobsy mailing one from Oregon. Tammy is mailing postcards from New Mexico. Francois is mailing a postcard from Montreal. Birket Foster sent one from Anguilla, while visiting Bob.
Can you help out? The address is
Robelle
Suite 372, 7360 137 Street
Surrey, BC Canada
V3W 1A3
5/06/2004
If you are moving from MPE to HP-UX, you may find yourself looking for a replacement for the Quad editor on MPE. Qedit is an alternative that runs on both platforms.
The biggest difference between Quad and Qedit is the special Quad way of keeping track of file changes in a separate file. Qedit does not do this. The second difference is that Qedit has an extensive full-screen mode that includes Cut and Paste, function keys to move ahead and back a page, search functions, and much more.
When shifting from Quad to Qedit, you may find our comparison chart helpful (keep in mind that we are not Quad users, so our comparison is generated from the documentation only). Click link above.
5/05/2004
The current newsletter is online and notifications are going out to customers via email and mail. This issue was so full of stories that it was difficult to edit it. The top story is the 12 months of great Qedit enhancements. Also lots of resources for staying on the HP 3000 (homesteading) and moving to HP-UX (migrating).
5/04/2004
Qedit Enhancements - A Busy Year!
It is now May 2004 and this has been a very busy 12 months for Qedit at Robelle. We started the time period with a new release (Qedit version 5.4) that resurrected our beloved "visual mode" on HP-UX 11 - after HP had changed the run-time libraries to remove the block mode routine that Qedit used. Other improvements at that time included the Length function to deal with lines without Newline characters, support for fixed-length COBOL files, string ranges, and much more.
We are ending the period with another new release (Qedit version 5.5) and it is jam packed with enhancements for both HP-UX and MPE users. Click the link above for all the details.
5/01/2004

---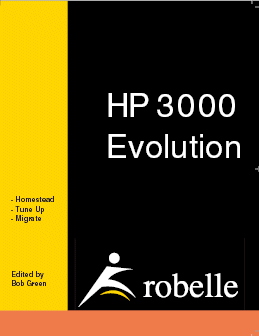 HP 3000 Book
HP 3000 Evolution:

Edited by Bob Green of Robelle, from articles written by Robelle, by The 3000 Newswire, and by other experts in the HP 3000 field.

This 300-page book contains the latest information on three important topics:
Homesteading
HP 3000 Tune Up
Migrating a 3000 application.

An essential reference for every desk! Order your copy on-line for US$25.