---
Recent News and Tips
How can I improve overall HP-UX system performance?
From the comp.sys.hp.hpux FAQ with updated links from Robelle
There are, of course, many answers to this question. Many people have noticed that HP's conservative choices in some configuration areas affect performance, especially as compared to Solaris. A couple examples:
o 'fs_async' kernel parameter
HP-UX by default makes all file systems I/O synchronous. Sun[R], by contrast, defaults to asynchronous I/O and depends on the syncer. Changing this parameter's value from 0 to 1 can significantly increase write speeds, BUT at the risk of losing data in a system crash. You can change this parameter using SAM.
o 'async' NFS option
Similar to local writes, NFS writes to a filesystem exported from an HP-UX system are synchronous by default. Add the async option to your /etc/exports if you want to change that, but be sure to carefully read the exports(4) manpage first.
An abundance of performance tuning tips are provided by HP in the following tuning guides:
o JFS Tuning and Performance (Journalized File System) August 2004.
o HP-UX Kernel Tuning and Performance Guide v3.1, 03/15/00.
10/31/2004
MPE for UNIX Users, Part 2: HP 3000 Login and Logoff.
So you are an experienced Unix/Windows SysAdmin who has been given the responsibility of looking after your firm's network of HP 3000s. And you have never seen the MPE operating system before. One of the first things that you might do is log onto one of the systems, using the login instructions and passwords left you by the previous administrator. Click the link above for complete description of what happens during login.
10/29/2004
Client Systems Is Still Keen on the 3000
Dan Cossey of Client Systems writes:
"Client Systems, HP's long standing exclusive e3000 Distributor for over 10 years and it's subsidiary Phoenix 3000 (HP's contractually authorized After Market Partner) is still here and have been very active in supplying HP Channel Partners, their customers and other critically important 3rd party partners with needed e3000 solutions. And yes, even since the discontinuance back in October 2003. We all know that many of our customers are not ready to migrate for some time to come. So whether you are in need of a 9x8, 9x9, 99X, a-class server, n-class server, a license upgrade, hardware upgrade or support, we are still here service the market and hopefully will be servicing you too. ... If you want more information, need a quote or even want to make a purchase, contact one of the following for immediate assistance."
Mike Murphy - 303.873.6502 - mikem@clientsystems.com
Gary Marcove - 303.873.6504 - garym@clientsystems.com
Dan Cossey - 303.873.6503 - danc@clientsystems.com
10/26/2004
Cupertino Acknowledges HP 3000
Glenn Cole writes: Two years ago, a hotel and condos were built in front of the Cupertino City Center at the busy Stevens Creek and De Anza Blvd intersection. Earlier this year, a plaza was constructed with sculpture, benches (with free wireless Internet access), fountains, and a few historical markers. One of the markers is labelled Technology. It reads:
Since the 1960s, Cupertino has been at the leading edge of technology. In the same pioneering spirit of the founders of Cupertino, the companies and people of Cupertino have been responsible for many of the advances in computers. Pictured below is Hewlett-Packard's first general-purpose computer, the HP3000, created in 1972; Apple Headquarters at One Infinite Loop; and the first Apple computer created in 1976.
Click the link above to see a photo of the historical marker.

10/15/2004

Firefox: Fight Worms and Spyware


The easiest way to eliminate spyware, adware and worms on your PC is to switch from the Internet Explorer browser to the new Firefox browser from Mozilla (the open-source descendant of Netscape). Firefox Version 1 Preview Edition is reliable, does not have security holes like IE, and has almost zero learning curve; it imports your IE favorites, history, cookies, and plug-ins, including my Google toolbar. Even supports themes and skins. I have not run into any web pages that it cannot handle, except for our Windows Terminal Services (perhaps we just need to install the plug-in). Here is a typical review and here is a web site for Firefox help.
10/12/2004
Office Closed Monday, Oct 11
The Robelle office is closed for Canadian Thanksgiving on Monday, but technical support and R&R will be open and busy beavering away. Have a great Thanksgiving (Canadians).
10/08/2004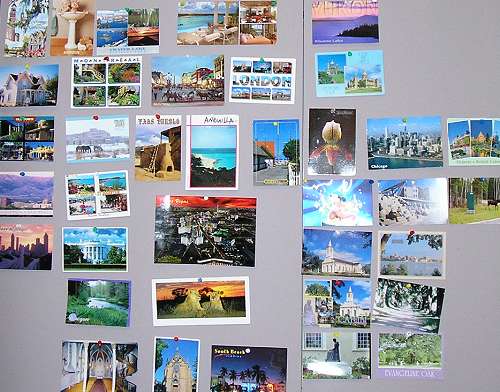 Our Postcard Bulletin Board
Our collection of postcards from around the world is growing and growing. To have yours included on our office bulletin board (we obviously do not have enough intra-office memos!), just mail to:
Robelle
Suite 372, 7360 137 Street
Surrey, BC Canada
10/03/2004

---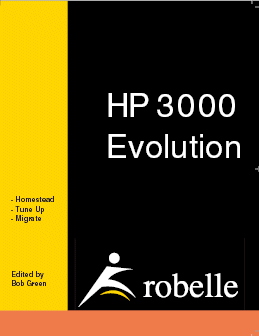 HP 3000 Book
HP 3000 Evolution:

Edited by Bob Green of Robelle, from articles written by Robelle, by The 3000 Newswire, and by other experts in the HP 3000 field.

This 300-page book contains the latest information on three important topics:
Homesteading
HP 3000 Tune Up
Migrating a 3000 application.

An essential reference for every desk! Order your copy on-line for US$25.