---
Recent News and Tips
Recently we at Robelle have been busy integrating Suprtool for HP-UX with a very interesting migration product from Speedware called "AMXW". The goal of AMXW is to reproduce the basic HP 3000 application environment (languages, file system, database, Vplus, and commands), so that you as the user do not need to rewrite your programs.
Since Suprtool already runs on HP-UX, why would you want to interface it to a library like AMXW? The answer is simple: to take advantage of the "MPE-emulation", of course. For example, Unix does not have the concept of a record length for files (all files are just a string of bytes). If you intend for a file to start a new "record" every 80 bytes, you need to tell Suprtool/UX about this in your Input command; Suprtool cannot figure it out automatically, unless of course you are reading a "self-describing" file created by Suprtool. AMXW maintains the equivalent of the MPE file label for each emulated file, so it can tell any program the record size, data type, and other MPE attributes of the file, such as user labels.
Click the link above to learn more.
11/25/2004
In part 2, we explored the directory structure of MPE a bit to explain about logging on. In part 3, we look at files to see how they are different from files in Unix. The File System is one area where MPE is really different from Unix. And much more complicated. Click the link above to find out how complicated!
11/25/2004
Micro Focus Webcast Dec 3 on 3000 Migration
Date: Friday, December 3rd. Time: 8:00 AM (PST)/11:00 AM (EST). The format of the Web Cast is 45-minute presentation followed by a 15-minute interactive Q&A with participating guests.
11/16/2004
Closed for Remembrance Day
Thursday, November 11 is a public holiday in Canada and our office will be closed. Tech support will, of course, continue to be available.
11/10/2004
Disaster Recovery Planning for Homesteaders
Paul Edwards has issued an update to his paper on disaster planning:
Your HP 3000 system is probably the heart of your company's business operation. Some disasters, like disk drive failure, are minor, while others can destroy the computer center or entire corporate structures. The top ten types of disasters, which have caused the most damage in recent years, are power outage, storm damage, flood, hardware error/failure, bombing, hurricane, fire, software error, power surge/spike, and earthquake.
11/03/2004
Robelle Newsletter for October
Covers MPE for Unix users, OpenMPE, HP-UX performance, and much more!
11/01/2004

---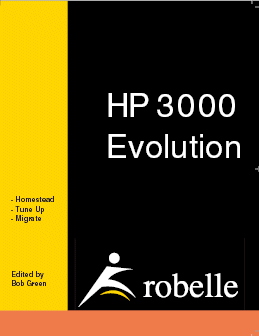 HP 3000 Book
HP 3000 Evolution:

Edited by Bob Green of Robelle, from articles written by Robelle, by The 3000 Newswire, and by other experts in the HP 3000 field.

This 300-page book contains the latest information on three important topics:
Homesteading
HP 3000 Tune Up
Migrating a 3000 application.

An essential reference for every desk! Order your copy on-line for US$25.