---
Recent News and Tips
While surfing the net, I came across this 1999 article by Ron Seybold about Vladimir and Eugene Volokh of VESoft.
12/31/2004
Qedit Deals With Trailing Blanks
Our January column for The 3000 Newswire magazine deals with two interesting and inter-related questions: how to remove trailing blanks from lines, and how to retain them! Click to read the entire column.
12/31/2004
Examining the Content of Files
In part 3, we looked at files. In part 4, we learn how to look at file content. This introduces the Unix user to Print, Editor, Fcopy, Qedit, Magnet, MPEX and Suprtool.
12/30/2004
Holiday Hours
Robelle sales & admin department holiday hours:
Dec 24th open 7-11 PT
Dec 27th closed
Dec 28th closed
Dec 29th closed
Dec 30th closed
Dec 31st open 7-3 PT
Jan 3rd closed

Robelle staff will be checking voice mail and e-mails during the holidays.
12/20/2004

---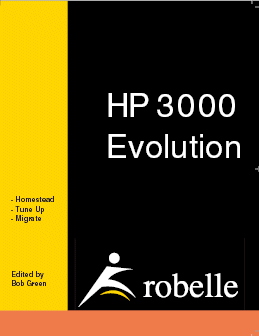 HP 3000 Book
HP 3000 Evolution:

Edited by Bob Green of Robelle, from articles written by Robelle, by The 3000 Newswire, and by other experts in the HP 3000 field.

This 300-page book contains the latest information on three important topics:
Homesteading
HP 3000 Tune Up
Migrating a 3000 application.

An essential reference for every desk! Order your copy on-line for US$25.