---
Recent News and Tips
SUPRTOOL/QEDIT/HP-UX Training in October
Kubler Consulting, Inc., an authorized SUPRTOOL Training partner with Robelle Solutions Technologies Inc., is offering a three-day SUPRTOOL/QEDIT Training course in Tampa, Florida. This course is being offered by popular demand at an eastcoast site and is being hosted by the SUNCOAST CREDIT UNION. The dates are October 17th - 19th. If you have an interest in the training please send email to jeff@kublerconsulting.com or call 541-745-7457. Further information including the topics covered, detailed location and training references, etc. are available upon request. Additional information on travel arrangements can be found at www.kublerconsulting.com
One student had this to say, "Suprtool is the fastest data extraction tool I have ever used with many capabilities added through the use of STExport, DBEDIT, and SUPRLINK. The training I received as a report developer allowed me to make a connection to the appropriate database where data could be combined, formatted and massaged in accordance with user specifications." Doug Cowart , GTE Federal Credit Union
8/30/2005
Recently, I have noticed a positive level of activity in the MPE universe. People with an interest in the platform have been working on it and acting to keep it supported and practical. A few examples are:
Resource 3000: newsletter and services
3000 Newswire Blog: daily stories
3000-L Mailing Lists: users helping other users
Ecometry Mailing list: lots of HP 3000 action
Software Vendors: helping users, updates, new products, ...
Hewlett-Packard: new patches, CI and network printing enhancements, ...
To read my full report, click the link above.
8/27/2005
Beechglen has an interesting Patch Analysis Script on their web site (link above). It compares your current system's patches to the latest available and provides you with a list of recommended patches to apply. Included with this list will be the text descriptions of each patch so you may review what each one will fix. I can't tell if they are keeping this up to date for all the latest patches, but it wouldn't surprise me.
8/24/2005
The Interex Contributed Library
The 3000 Newswire Blog continues to produce excellent daily articles on the 3000 world. For example:
"... a brief report on the location of programs contributed to the Interex Contributed Software Library (CSL). Links to the CSL went dark when Interex cut off its Web access on July 18, but the programs are safe in the hands of Chuck Shimada, a longtime Interex volunteer and de-facto curator of this collection of HP 3000 utilities."
"Shimada reported that he won't be releasing the entire CSL library for quite some time. Legal rulings over the years have established the group of programs in its entirety as a copyrighted Interex asset, he said. ...
"But anyone can get individual CSL programs from Chuck, if you send him an e-mail (at his personal address) and ask for an individual program. Knowing what to ask for becomes a matter of research if you don't have the full CSL index of programs. The NewsWire's new search feature can help, as can the rest of the 3000 community."
Click the link above to read the entire report, which is quite detailed.
8/23/2005
HP 3000 Reunion Lunch
Ron Seybold has organized an HP 3000 luncheon south of San Francisco, and the date will be Monday, August 15. If you are coming to San Francisco, or live in the area and would like to attend, please reply to him at rseybold@sbcglobal.net if you haven't already RSVP'd.
Refreshments and lunch will be complimentary, according to Alan Yeo, the president of Screenjet Ltd. who organized last year's HP 3000 Community Networking booth at HP World. "Send us a fast food response," said Yeo, who is hosting the 3000 luncheon along with Michael Marxmeier of Marxmeier Software and Duane Percox of QSS. "Based on the responses, we can pick the right venue. This is definitely a 3000-only lunch. Register your interest and we will send you an invitation."
Email Ron by the morning of Aug. 11 to have your place (and buffet plate) reserved.
8/11/2005
SUPRTOOL for AMXW, also known as SUPRAMXW, is now available for download from Robelle's web site.
SUPRAMXW is not just an amalgam of super-acronyms-it's the newest migration solution available for SUPRTOOL customers. Developed between Speedware and Robelle, SUPRAMXW resolves migration obstacles for HP e3000 companies that have SUPRTOOL.
Click link above for many more details...
8/11/2005
Have a question for Robelle? The answer is probably on our "top 10" page!
8/08/2005
Configuring Remote Console Operation on 9x7 Servers
From the Resource3000 newsletter:
"Controlling your server with a remote modem on 9x7 servers requires special considerations and an understanding of the underlying principles of the access port. This article has been highly condensed and the full article covers detailed troubleshooting along with in-depth explanations. ... "
8/05/2005

---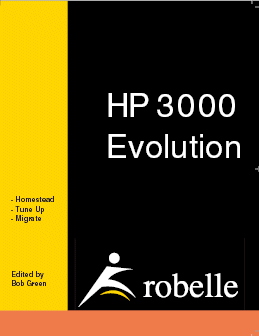 HP 3000 Book
HP 3000 Evolution:

Edited by Bob Green of Robelle, from articles written by Robelle, by The 3000 Newswire, and by other experts in the HP 3000 field.

This 300-page book contains the latest information on three important topics:
Homesteading
HP 3000 Tune Up
Migrating a 3000 application.

An essential reference for every desk! Order your copy on-line for US$25.