---
Recent News and Tips
We get a multitude of calls and e-mails every week. Here we describe some of the more common, and sometimes the most bizarre problems we have encountered and solved over the course of time.
Our first entry in this new feature of the Tech Support call of the week, we show a variation on one of the most common problems we encounter. Click on the link above to what is easily one of our most common issues.
10/31/2005
We have had a number of inquiries into our Support of Itanium chips or the new Itanium2 (trademark) Integrity server machines. Many of the customers want to know just one thing: does it work or not, and is it supported.
Well, to be honest, this is IT in the 21st century, and there are rarely simple answers! Click the link above to read about Qedit and Suprtool on Itanium and Integrity servers from HP.
10/19/2005
Sales/Admin closed Monday, October 10, 2005
The Robelle Sales and Administration offices will be closed Monday, October 10, 2005, so that Fran, Tammy and Bobsy can celebrate Thanksgiving Day in Canada.
Happy Thanksgiving to all our Canadian friends.
10/07/2005

---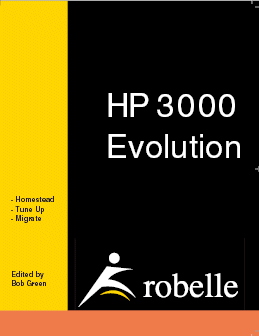 HP 3000 Book
HP 3000 Evolution:

Edited by Bob Green of Robelle, from articles written by Robelle, by The 3000 Newswire, and by other experts in the HP 3000 field.

This 300-page book contains the latest information on three important topics:
Homesteading
HP 3000 Tune Up
Migrating a 3000 application.

An essential reference for every desk! Order your copy on-line for US$25.