---
Recent News and Tips
Robelle Holiday Schedule
As part of the Holiday season, the Robelle Sales and Administration offices are closed from December 26, 2005 until January 2, 2006. Phone in Technical Support is closed on December 26, 2005, but will be available for the rest of the week, December 27th to December 30th. Technical Support will be closed on January 2, 2006 in lieu of the New Years Day, but will re-open on January 3, 2006.
12/22/2005
Robelle staff wish you a Happy Holiday and all the best in 2006!
Our latest newsletter goes into detail on Itanium servers (aka Integrity), SD files on Unix, unique filenames, and much more. An action-package issue for the holiday season.
12/07/2005
New Consultant Listing: Robert Lewis
Located in Tampa, Robert has been specializing on HP 3000 systems since 1976. Support for networks, MS Office, Cobol, Basic, TurboImage, Adager, Suprtool, KSAM, WRQ Reflection, MPEX, Security/3000, Qedit, HTML. Email: rs.lewis@earthlink.net
12/05/2005

---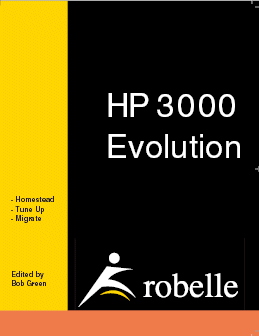 HP 3000 Book
HP 3000 Evolution:

Edited by Bob Green of Robelle, from articles written by Robelle, by The 3000 Newswire, and by other experts in the HP 3000 field.

This 300-page book contains the latest information on three important topics:
Homesteading
HP 3000 Tune Up
Migrating a 3000 application.

An essential reference for every desk! Order your copy on-line for US$25.