---
Recent News and Tips
Robelle Tech Support Office Move
The Allegro offices which help do our front line technical support will be moving on Friday July 14th. We will still be able to call you and handle all technical support, you will just need to leave a message on our service which will be e-mailed to the remote support engineers and we will call you back. E-mail support will still be available as usual.
7/13/2006

---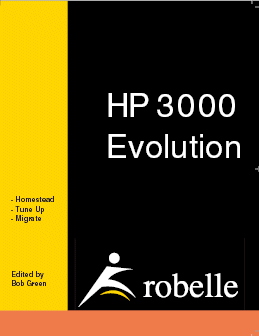 HP 3000 Book
HP 3000 Evolution:

Edited by Bob Green of Robelle, from articles written by Robelle, by The 3000 Newswire, and by other experts in the HP 3000 field.

This 300-page book contains the latest information on three important topics:
Homesteading
HP 3000 Tune Up
Migrating a 3000 application.

An essential reference for every desk! Order your copy on-line for US$25.