---
Recent News and Tips
Weather creates havoc on Roads
The Sales and Admin team will be working from home on Monday, November 27, 2006 due to recent storm activity. This means that the Sales and Admin team can answer your questions via e-mail at sales@robelle.com and admin@robelle.com.
To read about the storms in the area please see this story in the Vancouver Sun.
11/27/2006
Robelle closed November 23, 2006
Robelle will be closed for the US Thanksgiving holiday on Thursday November 23, 2006. Robelle will open again on Friday however, we will have limited technical support. You will need to call and leave a message and/or e-mail support@robelle.com and you will be contacted shortly thereafter.
11/21/2006
Production version of Suprtool
We have had a high number of requests for the latest version of Suprtool from our Summit customers. Click on the link above to go to request codes and to be taken to the download page.
11/15/2006
Sales/Admin closed November 13, 2006
The Sales and Admin offices will be closed Monday November 13, 2006 in lieu of Rememberence Day.
11/06/2006

---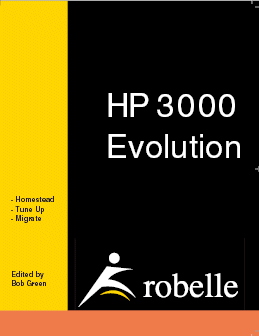 HP 3000 Book
HP 3000 Evolution:

Edited by Bob Green of Robelle, from articles written by Robelle, by The 3000 Newswire, and by other experts in the HP 3000 field.

This 300-page book contains the latest information on three important topics:
Homesteading
HP 3000 Tune Up
Migrating a 3000 application.

An essential reference for every desk! Order your copy on-line for US$25.