---
Recent News and Tips
Based on the technical support calls that we are receiving, it appears that many HP 3000 systems are being put in the care of staff with only Unix and Windows. So we have decided to write a series of introductions to MPE for these lucky souls.
First thing you need to know is that MPE has Unix-like features integrated into it (via Posix), but most applications and software tools were written with the non-Posix features.
Basic MPE consists of a single shell (the command interpreter) and a file system that has only 3 levels (user, group, account) but has many file attributes including record size/type, max file size, extents and passwords (called lockwords). The 3rd party product MPEX is an alternate shell, as is sh.pub.sys (the Posix shell).
Click the link above for a cross reference from unix commands to MPE commands.
9/30/2004
Suprtool has so many date functions that it is difficult to know where to start in presenting them. Click the link above to read our two-part article for The 3000 Newswire about date functions in Suprtool.
9/28/2004
And offers a program to lure HP-UX users away.
9/17/2004
The Register reports that "HP's largest user group has decided to withhold key information from reporters and analysts in an effort not to upset the company with the damaging data." They go on to report in detail on the portions of the user survey that Interex revealed during an HPWorld session.
9/17/2004
We have posted Birket Foster's slides from the OpenMPE meeting at HPWorld last month (they are in Microsoft Word format). Important to read them and contact the board if you have any interest in receiving patches to MPE after end-of-hp-support. OpenMPE needs purchase order committments by Nov 30th.
Update: here is the proposed budget in PDF format, and here are the original slides in horizontal PDF format, in case you want to check anything in our MS Word version.
9/10/2004
Between a Robelle customer and two of our Suprtool support team at Allegro: Barry Lake and Barry Durand, ending with the statement "This is close to the best support I have received from any IT organization".
9/10/2004
Sybase Offers Free Linux Version
Limited to use of one CPU, 5GB of data storage and 2GB of RAM. Zero software licensing costs. Zero maintenance costs.
9/09/2004
Monday is a Holiday
As a reminder, Robelle will be closed on Monday, Sept. 6th for Labor Day, as will Allegro our tech support partner. However, support for emergency situations will still be available.
9/03/2004
Disaster Recovery Planning for Homesteaders
Readable paper by Paul Edwards for homesteaders. Here is a sample: "For most organizations, the recovery plan will include a contractual agreement with a disaster recovery vendor. Such vendors provide HP 3000 systems, facilities, and technical support in the event of a disaster. The most common types of agreements used by HP 3000 shops are for hot sites, shippable systems, and cold sites." In a related development, Paul Edwards has partnered with TAMP to provide disaster planning.
9/02/2004
Robelle Newsletter for September
Covers HPWorld, STExport more than 2GB, help for Powerhouse users, and much more!
9/02/2004

---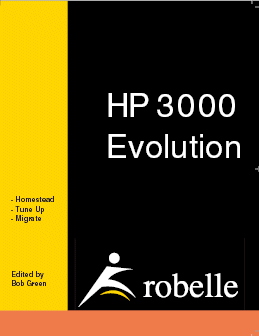 HP 3000 Book
HP 3000 Evolution:

Edited by Bob Green of Robelle, from articles written by Robelle, by The 3000 Newswire, and by other experts in the HP 3000 field.

This 300-page book contains the latest information on three important topics:
Homesteading
HP 3000 Tune Up
Migrating a 3000 application.

An essential reference for every desk! Order your copy on-line for US$25.