---
Recent News and Tips
Chris Bartram Seeking 3000 Contributed Programs
From 3000-L:

Sender:       HP-3000 Systems Discussion 
From:         Chris Bartram <chrisb@3k.com>
Organization: 3k Associates, Inc.
Subject:      Seeking contributed programs

To anyone out there with contributed programs (or command files)...
I'm in the process of expanding the public domain software links on www.3k.com . Anyone with programs they'd like to make available (since the old CSL swap tapes seem to be hard to come by these days) please let me know. I'll either link to your location, or happily host the software on our web/ftp servers. More direct link: http://www.3k.com/index_software.html
The intent is that all this software be easily locatable and freely downloadable in perpetuity; or as long as our 3000s keep chugging (which will be quite a while!).
We've got a pretty good collection out there already, but I want to ensure that we pick up as many other contributions as possible, before more of the 3k community "drops offline"...
Anyone with contributions, drop me a line :-)
4/29/2005
The system is down - the hard drive is toast - you may have to restore your IMAGE database from yesterday's backup. In the past, this is the scenario that typically got HP 3000 system managers interested in the transaction-logging feature of the TurboIMAGE database.
But now, as a result of the Sarbanes-Oxley law (SOX), IMAGE Logging is also being used to create audits for data changes. Managers who have never used transaction logging before are now enabling it to create an evidence trail for their SOX auditors.
Click the link above to read our entire story.
Update: One day after I finished the article above, I received an Online Extra newseltter from Ron Seybold at the Newswire. In it was an advert for a new IMAGE logging report program, 3000Audit as an aid in SOX audits!
4/28/2005
Suprtool/Qedit Training
DATES: MAY 18th - 20th
Kubler Consulting, Inc., an authorized SUPRTOOL Training partner with Robelle Solutions Technologies Inc., is offering a three-day SUPRTOOL/QEDIT Training course in Tampa, Florida. This course is being offered by popular demand at an eastcoast site and is being hosted by the SUNCOAST CREDIT UNION. The dates are May 18th - 20th. If you have an interest in the training please send email to jeff@kublerconsulting.com or call 541-745-7457.
4/28/2005
Eugene Volokh, Top 20 Legal Thinker and "Boy Wonder"
"Eugene Volokh is one of the Top 20 Legal Thinkers in America! Or at least, he's one of the Top 20 most prominent and respected legal thinkers that blawg readers know about. The rest of the results of the Legal Affairs "poll" is available here. Of course, take the poll results for whatever they're worth."
Eugune is, of course, the creator of MPEX. Click link above for full details.
4/20/2005
You know there is an invalid key value in a TurboIMAGE automatic master, but you don't know which of the 16 details contain the bad value. How to find them all? You could create a custom Suprtool job that looks in each of the linked datasets. But perhaps you have not worked on this database in a year or so. It could take a long time to get the names of the related sets, and the names of the key field in each one, all spelled correctly! Nothing difficult, but time-consuming.
Or, you could use the List;Related command of Suprtool's Dbedit module.
This extremely simple command shows you all the entries in the database that are linked to one specific entry!
For example, I know that there is an invalid key value "N45 0002" in the A-ACCOUNT-SITE automatic master, but I don't know what detail sets have the offending data. Remember, automatic entries are created, uh, automatically, when you insert data into a related detail. If you want to have the detail insertion to fail unless the key value has been previously inserted, you would use a manual master dataset.
For more details, click link above.
4/01/2005

---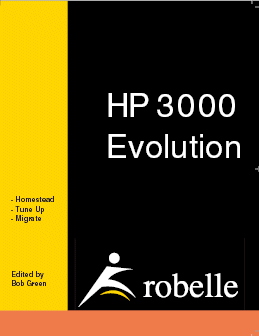 HP 3000 Book
HP 3000 Evolution:

Edited by Bob Green of Robelle, from articles written by Robelle, by The 3000 Newswire, and by other experts in the HP 3000 field.

This 300-page book contains the latest information on three important topics:
Homesteading
HP 3000 Tune Up
Migrating a 3000 application.

An essential reference for every desk! Order your copy on-line for US$25.