Syntax Coloring!
Qedit for Windows

Distinguish syntax elements at a glance

Easy to find syntax errors

Highlight comments, quoted text and keywords

Works on MPE files, HP-UX files, Local files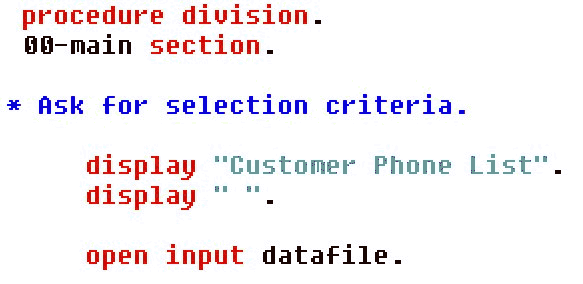 If you are migrating, you will be working with some new languages. Let Qedit for Windows help you see what is what is in these new languages. The languages currently defined include:
Allbase SQL
C and C++
Cobol, Cobfree
CobolX
Fortran 77

HTML
Java
MPE Commands
MySQL SQL
Oracle SQL

Pascal/iX
Perl
Powerhouse
SPL
XML

Easily define new language template files. Customize existing language template files. "How To" Note.
Contact Tammy Roscoe at sales@robelle.com 1-888-robelle www.robelle.com