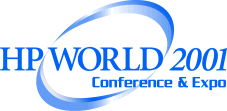 Robelle At HP World 2001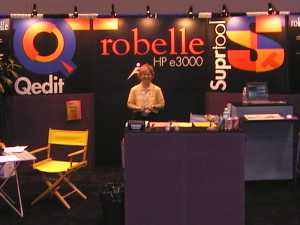 This year's HP World 2001 Conference & Expo was held in Chicago, Illinois, from August 20-24. Representing Robelle were Tammy Roscoe, François Desrochers and Bob Green. Click any picture on this page to enlarge it.
Here are François and Tammy with Alan Heter of Alliant Foodservice and Bob Green sitting on an exercise ball (center) in the Adager booth with Alfredo Rego (left). Bob presented a tutorial on TurboIMAGE performance that had a very large turnout (tutorial in PDF format). For papers presented by others, check the Jazz web site.
Below you can see François giving a demo, plus Donovan Deakin, Rebecca Johnson and Bruce Nowjack from WRQ (the Reflection company). WRQ has a new Reflection 9 and is working on Reflection 10. They are also showing Reflection for the Web, and integration software to tie disparate host applications together (such as Siebel and SAP). Plus, WRQ had a fantastic 20-Year Anniversary party at The House of Blues.
In our booth we were previewing a new Qedit for Windows with syntax coloring and we were giving away Robelle slinkies. Our bowl of M&Ms was also very popular.
Booth neighbors included Vital-Soft (with MatchPoint and Visimage products which use our Suprtool) and MB Foster of ODBC fame. See the pictures of John Overton (Vital-Soft) and Birket Foster (right) below.
Ron Seybold of the 3000 NewsWire (pictured below left) was present to collect news and posted his first report even before the show was over. Chris Gautier of 3kworld.com was at the show collecting suggestions for improving this e3000 portal site (Chris is in the blue shirt in the 3kworld/Client Systems booth pictured below).
For "Most Fun Booth", it was a tie between Roc Software with their rock climbing and Nobix with their money booth.
For "Most Economical Booth" the award goes to Vladimir Volokh of VESoft (pictured below), who once again did without a booth. For "Most Elegant Booth" the award goes to Alfredo Rego (pictured below in the Robelle booth), whose Adager booth consisted of just a red cube and some plastic exercise ball-chairs. The last picture shows Rene Woc and Stan Sieler standing next to the minimalist Adager booth.
Winston Prather, General Manager of the hp 3000 division presented the state of the 3000 talk. High point for the crowd was when he was in the middle of explaining the value of the platform. He leaned over to the podium and clicked the next slide button on his laptop PowerPoint presentation. All of a sudden the screen was replaced with the notorious Windows Blue Screen of Death. The crowd roared with laughter. Winston joked that he hoped he could give the rest of the talk from memory --- then an arrow moved across the screen reading "the real value of the e3000 is what you don't get with mpe/ix".
Later Winston announced that projects are underway for next year to bring faster PA 8700 processors to the e3000, as well as bundling the secure version of Apache into an upcoming operating system release.
For a capsule summary of the talks by Winston Prather and Dave Snow, read the 3kworld report.
Bob Green of Robelle also presented a paper on Building Better Software, but Bob rewrote it the night before as a comedy routine: Bob's Top Ten Software Tips from the Dark Side. Here are the anti-tips:
10. Promise everything, deliver half with bugs, then charge consulting fees to fix the mess.
9. "Testing Schmesting."
8. Stifle all attempts to report bugs.
7. Work on the system for at least a year before letting anyone see it.
6. Use your creative writing skills when doing progress reports.
5. Hire as many programmers as you can.
4. Keep the programmers in the deep dark recesses of your office and never let them meet the users.
3. Every Monday, announce your new methodology for the week.
2. "Get ready for the ultimate, super-duper, system to end all systems!"
1. Once it is done, have confidence in yourself -- resist all changes.
If you follow all these tips, you are guaranteed to write bad software.
---
For more pictures from HPWorld 2001, visit our picture gallery.