August 11-15, 2003
Representing Robelle at HPWorld in Atlanta, August 11-15, were Tammy Roscoe, Franšois Desrochers, Mary Ann Green and Bob Green (who is also presenting a paper on database migration).
Here are some of the MPE papers that were presented:
Bob Green (Robelle): Transforming TurboIMAGE Data for Eloquence, Oracle and more
D. Scott Pierson: Transition Methodology and Planning: 5 Steps Toward e3000 Transition Success
Birket Foster: Enterprise Migration
Christopher Koppe: Migration Success Stories: Lessons Learned
Frank Calvillo: Homesteading - Establishing a Long-Term Strategy
Alvina Nishimoto: HP e3000 Transition and Migration Panel
Michael Marxmeier: e3000 Migration Implementation
---
March 26 - 29, Valley Forge, Pennsylvania (East)
April 23 - 26, San Jose, California (West)
Interex is offering four days of sessions on migrating or continuing operation of an HP 3000, repeated on the East and West coasts. Robelle is not planning to attend - follow our web site for the latest information on running a great 3000 shop, or migrating to another platform.
May 4-7, 2003
CAMUS (the Computer Aided Manufacturing User Society) is holding their annual conference May 4-7, 2003 in Dallas, Texas at the Hotel Inter-Continental (in nearby Addison). The theme is "Harnessing Change - Back to Basics". They offer early bird registation discount. Anyone interested in being a speaker should contact CAMUS by Februrary 3rd.
June 5-7, 2002
The 2002 Synertech/AMISYS Customer Conference will be June 5-7 at the Walt Disney World Swan Resort. They are expecting more than 200 attendees from small to large health plans from throughout the United States - customers representing Synertech, AMISYS 3000 and AMISYS C/S product lines.
April 22-24, 2002
The Indiana Regional Users Group announces that April 22-24, 2002 are the dates for the 11th Annual Midwest HP Users Training Symposium. Location: the Holiday Inn Crowne Plaza Hotel, downtown, Union Station.
May 19-21, 2002
CAMUS Conference
CAMUS (the Computer Applications for Manufacturing Users Society) will hold their 2002 International Conference on May 19-22, 2002 in Denver, Colorado, at the Hyatt Regency Tech Center. This is a group that contains MANMAN users, MK users and MAXCIM users. Their web site is a
www.camus.org
August 18-21, 2002
Ecometry has changed the date of their conference from May to August. Click the link above for more details.
Sept 23-27, 2002
Robelle will be attending HPWorld 2002 in the LA Convention Center. Look for us in booth 1101, to the left of the expo entrance.LA Convention Center Sep 9-13 (Expo Sep 11-13).
Read about HPWorld 2001 in Chicago.
2002 Suprtool Training by Ecometry
Ecometry
offers a Suprtool training course organized around the database used in their application suite. Suprtool training is also available through
Robelle and authorized instructors
. The
schedule
for 2002 is:
Jan 31-Feb 1
Apr 11-12
Jul 18-19
Oct 10-11
The Ecometry Suprtool class costs $800 and lasts two days. For more details, read the class description.
Feb 11-15, 2002
The 6th Annual HP Performance Training Seminar is being held by FLORUG in Orlando Florida, Feb 11-15, 2002. On Wednesday morning, February 13th, Bob Green of Robelle is presenting a tutorial entitled "Image Internals and Performance". Don't miss it. For program details and registration, click the link above.
Apr 3-6, 2002
"2002 means e3000: the skills to migrate Ś or the skills to continue to improve your e3000 infrastructure today. Either way Ś HP e3000 Solutions Symposium is the place to be this April."
Sponsored by Interex, San Jose, California.
Read all about the Solutions Symposium.
Sept 12-14, 2001
SESUG Meeting
Cancelled.
The Southeast Summit Users Group is Sept 12-14 in Melbourne Florida. Bob Green of Robelle is attending to give the group an afternoon training session on IMAGE databases and Suprtool.
October 1-14, 2001
eXegeSys Conference
MM/3000 and PM/3000 users, plan now to attend the eXegeSys eRP Users Conference 2001, Oct. 1-4, Downtown Salt Lake City. Register today by visiting
www.exegesys.com/erp2001/welcome.htm
---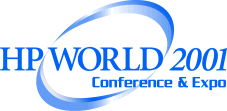 August 20-24, 2001
HPWorld 2001 - Chicago
The premier event of the year for HP users - attracts thousands of attendees.
Information on the conference
.
Read our HPWorld report and see the pictures.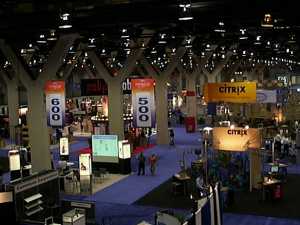 Robelle was at HPWorld August 20-24, 2001 in Chicago. Representing Qedit and Suprtool will be Bob Green, Tammy Roscoe and François Desrochers.
Robelle company President Bob Green presented both a paper and a tutorial:
Building Better Software: User-Centric Techniques That Endure : read the paper now.
Image Internals and Performance: a new 2-hour tutorial, you can read the material in PDF format.
The list of MPE presentations was interesting this year (see the
HP World web site
for papers by Alfredo Rego "23 Years of Gypsy Programming", Stan Sieler "Test and Tune Your Disk Drives", Mark Bixby "Perl Programming on MPE/iX", Rich Trap "Cool UNIX Utilities on MPE", ...).
Jeff Kubler of
Kubler Consulting
presented a session on Suprtool at this year's
HPWorld
conference in Chicago, "Super Suprtool Solutions":
Suprtool is one of the most prevalant database extraction tools in the MPE world. Virtually every application, from legacy applications to the new e-commerce applications, will have some use for Suprtool. A clear understanding of its use and capabilities is a key concept in any developer's technical bag of tricks. In addition, there are a number of great solutions to some of the trickiest problems with database or file extraction, and updating that will be covered in the presentation of the paper should help any developer increase productivity.
Click the link above to read more, including Jeff's bio.
June 17-20, 2001
Ecometry Conference
Ecometry
(formerly SG/MACS) is a widely used retailing application package for the e3000. Their
annual conference
will be held in Boca Raton, Florida, and Robelle plans to attend, since they use our Suprtool in the application. For more information,
visit the Ecometry web site.
June 25-27, 2001

Kubler Consulting, Inc., a Robelle authorized Suprtool trainer, is offering a three-day Suprtool Training course in Albany, Oregon, hosted by Lund Perf Solutions. The dates are June 25th, 26th and 27th and there is limited space available. Cost of the training is $1,149.00 (discounted if pre-payed). If you have an interest in the training please send email to jrkubler@proaxis.com, call 541-745-7457 or click link above.
P.S. Comment from a past attendee: "Prior to receiving Suprtool training from Jeff Kubler, I had to rely upon our programming staff to find data and build test data environments. This was time consuming because I often had to wait for their availability. The Suprtool training has been invaluable because now I can perform these tasks myself. This has made me much more efficient and effective. I would recommend this Suprtool training to anyone who needs to access data and needs to become quickly familiar with IMAGE and the Suprtool." - Juliann Meitzler, Rodale Press.
May 22-23, May 21
May 22-23, 2001, Jeff Kubler is offering two days of Suprtool training at Tech Group's facility in Maryland, preceded by a one-day Qedit training course. $500 per day.
At HPWorld there will be seven
HP management roundtables
, including IMAGE/SQL and HP e3000 Management. You can submit issues for the panel at the Interex web site. Just click on "Review Issues" and then "Submit a new issue". One issue submitted by Ken Sletten is about the
need for a full-speed A-Class
.
April 26-27, 2001 Amisys Users Conference The Amisys user group is meeting in San Diego April 26-27. Read more about it on the 3000 Newswire. March 11-14, 2001 CAMUS Conference: MANMAN/MK CAMUS - Computer Applications for Manufacturing Users Society - is a users group for MANMAN and MK users.
Both the MANMAN and MK manufacturing applications were taken over by Computer Associates, International in 1995, and are now supported by CA's interBiz Supply Chain Group. The purpose of CAMUS is to provide a forum for networking and information exchange and to influence the direction of development and policies of interBiz and related vendors. The annual CAMUS conference is coming up next month - March 11-14, 2001 - in San Diego, CA. The conference has five tracks including the MK track, the MANMAN track, a general how-to, innovations, and a bonus track. There is a great variety of talks being given by users, interBiz trainers, and consultants - see the complete agenda.


And don't miss the Exhibit hall which will feature consultants and vendors demonstrating their services and solutions. Robelle will be represented by Summit Systems Inc. Summit Systems specializes in MANMAN consulting and offers an array of products that enhance the MANMAN package. The folks at Summit Systems are very familiar with Robelle's Suprtool and if you don't already have Suprtool, you might be moving data around the hard way!
Stop by Summit Systems' booth and they will be happy to explain how Suprtool can improve performance at your site and help you with your data manipulation tasks. Robelle's product literature will also be available at Summit's booth.
Also, read the two articles by MANMAN users on our site: Boosting MANMAN performance with Suprtool, plus Easing the MANMAN month-end.
February 5-6, 2001
SigSoftVend Meeting Meeting in Cupertino of e3000 Independent Software Vendors, with each other and with Hewlett-Packard. Robelle is sending Paul Gobes, who will also attend the Solutions Symposium that follows. February 7-10, 2001 HP Solutions Symposium The Symposium was a success: Read about what happened. Some of the papers are posted on the web.
Mark off February 7-10, 2001 for the second HP e3000 Solutions Symposium in San Jose, an event which offers 4 days of extensive technical training for e3000 System Managers, Programmers, Webmasters and Application Developers. Meet with Paul Gobes of Robelle and catch his three training sessions: Paul describes the training.
February 12-14, 2001
Sig/3000 Meeting
Sig/3000
is a meeting in Cupertino of Special Interest Groups for the e3000, including SigImage, SigMPE, SigJava, SigCobol, SigFortran, and more. HP lab people are present to give progress updates on enhancement requests from the Sigs. Intended for intermediate to advanced users.
February 13-16, 2001
Performance Training Seminar in Florida
Can you tweak and tune your HP computer for maximum performance, and improve your company's bottom line by attending one seminar?
Read Craig Solomon's report on the conference, then study Neil Armstrong's paper: "Living With 400 I-Os Per Second".
The answer is a resounding YES! But only if you attend the Performance Training Seminar in Florida (February 13-16, 2001). To get into the "meaty" topic of performance, a smaller, friendlier, and more intimate setting delivers much more value, and we'd like to let you in on our secret performance weapon... Neil Armstrong - the man in charge of Robelle's Suprtool performance software. Neil will be speaking about "Living With 400 I/Os Per Second", and Marie Reimer from Robelle's sales and marketing department will be there to back him up. Read all about the seminar.